This workday went incredibly quickly and seemingly unproductively. (Plenty of adverbs, though;) I had one morning appointment here which took barely 20 minutes, and an afternoon court appearance in Rochester which took about as long. Yet with the driving there and back and a fair amount of annoying in-between paperwork, I felt spent by mid-afternoon with a ride home still ahead of me. Worse, one additional client I wanted to see northwest of Rochester was not returning messages. I decided to head in the client's direction in case I got one of those returned, and the perfect place to wait it out was due north from downtown where the next landfall is miles away in Canada.




This is Rochester's waterfront- a good haul north from downtown and even most suburbs, so it's never gotten the development that Toronto (wayyyyy off in the distance) has had for years or even the kind that Buffalo is finally attracting. It tends to be just a quiet place to watch the water, swim in season, and relax. I wasn't there long, but it was comforting to be away from the stress for just those minutes.

I've never spent a lot of time in this section of town- it's a longago separate city called Charlotte (pronounced Char-LOT)- but it's one of those places where everybody knows its names. And the institutions are still going- dining at Mr. Dominick's, raucous bar music at the Penny Arcade- neither of which I've ever set foot in- and one other legendary place that I still haven't set foot in, but only because there's a takeout window right on Lake Avenue:



Abbott's wasn't my soft ice cream place growing up- that was Carvel, when it was still a metro-NY-only institution with walk-up stands and messy Brown Bonnet cones. It also wasn't the custard of choice here- that's Anderson's. But they've had a location within a mile of my office in suburban Buffalo for years, and never once has it tempted me. Because Abbott's goes with the place, and the place is Charlotte Pier, in summer. It was only in the 60s Farenheit today, but close enough. I ended my brief stay with a cone of the chorklit, and began my slow goodbye to what has been, overall, a very nice summer.

----

The chill and the carbs got me going enough to get to cardio, where another image awaited on the gym tv: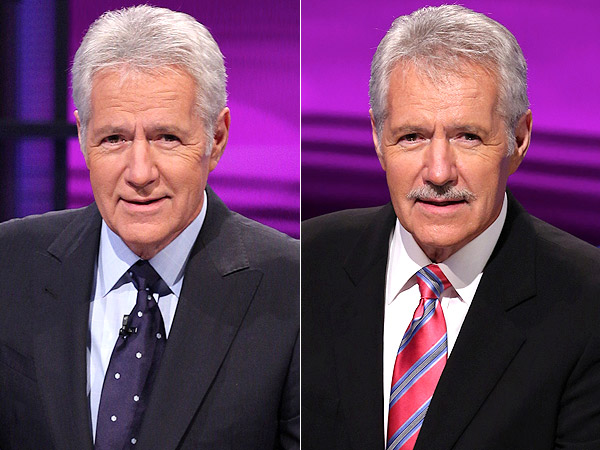 They now show Jeopardy! in the 4:30 slot, and as the captions explained (the sound being off on these things), he had some time off from the show in which to regrow his longtime-trademark mustache, and was going to leave it to the viewers to decide if it would stay. I've always found Clean Shave Alex to look weird; I go back to High Rollers and other 70s shows of his where he sported serious stache-age, so it seemed right.

Alas, it was all false hope in the form of a missed question. Turns out the episode they were airing in the afternoon was from a year ago, and the vote at that time eventually said au contraire to the hair.

Now if we can just get him to let us vote on whether he should be selling overpriced term life insurance to seniors. I'd tell him to suck THAT in a second.