Monday. Had to be in traffic court at 9 a.m. for a former BK client who got popped for obstructed view over a Christmas tree air freshener, of all things. If he had stopped in ahead of time at my office to return or sign a simple form, we could've done the whole damn thing through the mail.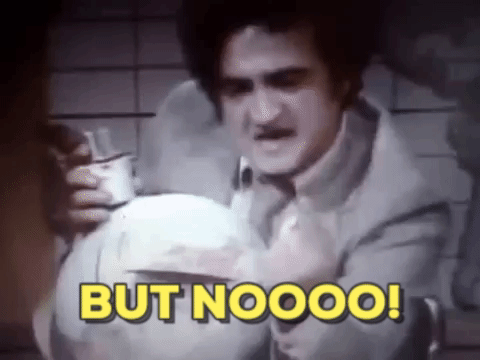 I was the first attorney there at 9- so early there wasn't a signup sheet. The prosecutor showed up, took one ahead of me and was in with him for 25 minutes. The line of attorneys started piling up into double digits. We discussed sending in first responders if he didn't open the damn door. Meanwhile, this being (a) Monday morning, (b) after a bad Bills home loss and (c) with the police officer station being just the other side of the court facility's wall, we got to be serenaded by some dude in the drunk tank who probably needed the first responders even more.

Finally, I was admitted to the Holy of Holies- and got my plea in under two minutes (pro tip: this is much closer to normal, and it'd have been under 30 seconds if he'd had the file out on his desk like he should have.) Then, to the Bat-Courtroom!- where the judge was also having to deal with 25 Minute Guy and his lawyer, trying to understand why the client was turning down a conditional dismissal of his case. But ultimately we got out with not too much damage to my day or my client's wallet.

----

Tuesday. Met a nice doggie. At the office of an attorney who wouldn't handle a case for an existing client of his, and who then spent most of last week playing phone tag with me over getting the file information from him so I could take it over . His office was on my way from Wegmans, where I had to bring something over to Eleanor, so I stopped by- and there at his door were Ambar (the lawyer) and Otto (the dog). Ambar promised to email me the documents (he still hasn't). Otto was very sweet, but didn't seem to know anything about Nietzsche.

----
Wednesday.
Suffice it that I wrote out a time entry, ultimately posted for more than an hour with better legal-beaglese explanation, that simply said,
Herd cats.
This was the consequence of being unable to be in two places at once that morning and confirming the adjournment of the hearing in Place #2, with nobody opposing it but everybody being afraid that someone else would show up and screw up the adjournment. Finally got it confirmed, after my trip to Place #1 turned out to be utterly a waste of my time.
More fun with dogs, though. Place #1 was Niagara Falls, and I chose to detour across that scenic county- VISIT OUR FARMS!, says one billboard- to Lockport, where Pepper's chosen brand of chow is closest (not counting the puppy-mill-supply-chain pet store two miles from here which I won't patronize). Clyde's not only had a cute pup chatting up all the customers with a ball in her mouth; they guarantee your pet will eat the hippy dippy organic shiz they sell you, they voided the sale to apply the coupon I didn't even have, and they ask you to return the 40-pound bags empty so the manufacturer can recycle them.
They also sell cat food, but there were none there to herd.
----
Thursday.
More Belushi:
One of the easier ones- no court, only one appointment and not until 2, and the snow of the previous week was nearly gone- and I got the added
schadenfreude
of not having to be in traffic court to defend the guy I saw on the other side of the 90 en route. In reverse order:
1- A car with a state trooper behind it, writing the driver up.
2- A wrecked state trooper car being loaded onto a tow truck.
3- Another state trooper behind the wreck and the tow truck, hoping some asshole doesn't hit
him.

----

Friday.
My first workout after attending a free clinic on rowing and running technique a couple of nights earlier. The coach did a very good job of taking the components of each literally from the ground up- first, foot (treadmill) and leg (rower) positioning and sequencing, then core, and finally upper body (motion for the rower, avoiding swingy motion on the tread). Jacob also gave some great explanations of how important breathing is in both processes. Trying it out this evening showed I actually larned me some things there- most of the metrics were up from what they typically have been, and I had the soreness to prove it.
----
Saturday.
Eleanor continues her weekend-warrioring getting the inside of the house repainted. Saturday is usually my day to collect all those
herd cats
timesheet fragments from the week, supplement them with checking my phone and email for additional things I did, and put it all into the billing program. Got that done. Also got the Saturday mail at the office, something I've done in five different places over 30-plus years; did most of the running up-and-down-cellar stairs for things Eleanor needed for the paint job and otherwise; and we both somehow managed to stay out of Wegmans for an entire day.
Oh, and I got tricked by our own dog.
When the mail came at the house, my car registration sticker was in it. Good thing, because it expired that day. (They now let you print a 10-day extension from when you pay online, but even that was running short.) I opened the car door to stick it on, went back to grab the knife to peel the old one, and Pepper jumped in the car and said,
let's go!
There was no getting her out. So, of course, we wound up at the Parp! for an extra two-plus times round:
Eleanor had a Buddhist meeting Saturday night, so I listened to the Sabres, interspersed with bingeing a good chunk of
Good Place
season 2, and got ready for a return to the park at the usual time on....
----
Sunday.
Two more trips around, lots more new noses to nuzzle, then I returned Pepper home before a run to Wegmans. I got some groceries after OTF this morning and asked for a $10 bill back. Then went to my next stop and found I had two $20s in my wallet. Checked the receipt- yup, $10 back. So I trundled back to Wegmans (Eleanor had some extra stuff she needed anyway) and traded the $20 for the $10 so she wouldn't get in trouble for being under. She was very appreciative. Spent the $10 on the remaining groceries. Then, what do you think I found in my car?
The brick.

Sorry, couldn't resist. No, what I found, of course, was the $10 bill the cashier had given me, correctly, in the first place, which means now her till is $10 over. Fortunately, Eleanor assured me it's highly unlikely they'll be able to trace it to her (tills are typically shared during a shift), and even if they do, hopefully she'll remember the goofy guy who tried to do the right thing.

And I was rewarded for my attempted good deed by seeing this cutie in the adjacent car before coming home:




I wonder if he knows what Nietzsche would have thought of my moral dilemma.
This entry was originally posted at https://captainsblog.dreamwidth.org/1537794.html. Please comment here, or there using OpenID.