We've rarely, if ever, done the Big Table Big Family Gathering Thanksgiving Thing, in our married life or that I can remember from our upbringings. Most years Eleanor's done full turkey, or poultry variations, or a few times we've gone out for utterly unremarkable meals done by someone else.

This year it's home for homemade pizzas- and I just saw a post from a friend in NYC who's doing the same thing:)

Yet somehow I find ties that bind, often to strangers or longlost voices, on this day through things that have become traditions without my even especially noticing it.

----

This morning was Buffalo's 121st running of the Turkey Trot- the oldest continuously sponsored Thanksgiving Day race in the country. "Running" is a bit of a stretch, since two-thirds of the field runs the five miles in over an hour, a threshold I came close to breaking in the previous three years that I sort-of-ran.

This year was a walk all the way, as I was accompanying a friend who could only do it at a walking pace- and we finished, well, in about what it says on the stopwatch:




Our official times were a couple of seconds shorter; takes an instant to hit the button at the end. But it was the usual mix of sights, laughter and just enough challenge.




Above: my carpool companions Ann (purple top in the foreground) and Ellen (orange top on her right) at one of the meetup points near the start.


Next, the first of the dinosaurs we would encounter throughout our travels:




Those of his species were running more seriously than we were, so we lost sight of him until the after-party.

Around mile one, we made our first stop to visit with a regular observer- a friend of Ann's who has always brought his various St. Bernards to the edge of Delaware Park to watch the parade go by. This year he has a new one; meet Walter:




We pressed on into further signs of extinction; these two were neck-and-tail with us for most of the five miles: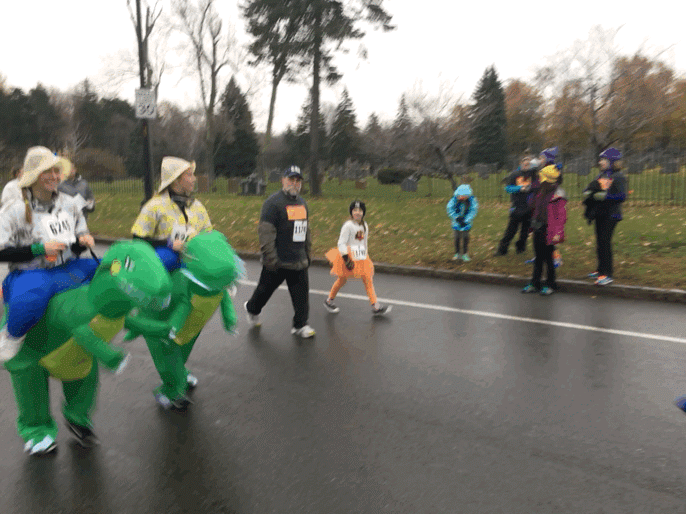 Soon the halfway point was behind us, the street started its mostly downward droop around Allentown, and we made it into the after-party without any injury or significant rain on us. The faster t-rexes had already gotten there:





And I saw a bunch of team members hanging around the fruit table with this cogent observation:




Mind, this doesn't take the free beer into account. I only had one. The carpool reformed and I was back headin' home right at noon, which was perfect timing for the second of my recently reinforced Thanksgiving traditions.

----

I've known of "Alice's Restaurant" since high school. I can even recite most of it from memory. But it didn't become a tradition to listen to it on Thanksgiving proper until my first T-Day with Eleanor in 1986; she had it on at her parents' home on the radio station there that still plays it, on the same midday show hosted by the same guy, all these years later.

I've made a point of finding them online and streaming it through the WCMF site for the past several years. I don't have to; I've had the CD of it for ages and it's played in its entirety on at least one station here during the day. But there's something about connecting to the signal, and intro voice, that I will always connect with the first Thanksgiving we shared together.

Maybe I should take selfies of me while listening to it next year. Twenty-seven 8x10 color glossy pictures....