Humpday is done. Three down, two to go in this marathon. Each of the past two days brought a tale of someone I know, at least one of whom could stand to be wished into a cornfield: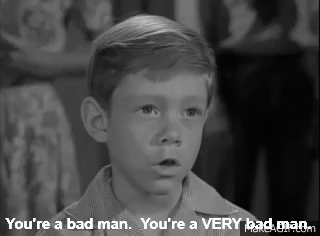 Yesterday was my one court-free day this week, but it turned out to be far from stress-free. The lawyer for owners of a $500,000 house, who have a contract to sell to new clients of mine, dropped at least one F-bomb on me in telling me where his people want my people to go. A government agency questioned the bona fides of a client whose teen-early-20s kids live in a property that she owns and who, amazingly, are not reliable in making payments on her mortgage on that property. But the worst actor of the day was not a client, but someone I sued, and have judgment and a pending contempt motion against. Our office's new tenant (who's also been chasing the guy) reported yesterday morning that the local US Attorney indicted and perp-walked the owner for not paying his income taxes, and for hiring illegal immigrants to work on his construction jobs. This put me in a bind between client loyalty and personal schadenfreude- because I knew, from my past interactions with the guy, that he was a major Cheeto supporter, with a lifesize mockup of 45* in his showroom, and who's also posted pro-MAGA slogans on his business's marquee over the past year. Having him hiring the very workers who'd be turned away and/or prevented entry by The Alleged Wall? Seems a lit-tle hypocritical- but certainly par for the (Mar-a-Lago) course for this crowd.

----

Then, today. A 9 a.m. bankruptcy hearing in Rochester, where all the trustees administering these hearings seem determined to outdo each other in scaring the assembled petition filers with threats of the FBI knocking on their doors if they're not completely honest. Many of them repeat their favorite war stories: one reminds debtors of "the guy in Rochester who didn't disclose that he owned an ostrich farm." Another regales them about the truck in the back lot that turned out to be a classic. Today's, though, was from one of the newer trustees to be appointed, which I hadn't heard before. His VERY bad woman was the subject of what many of these trustees warn about as the "X factor"- the ex-spouse, ex-neighbor, ex-business partner, who's pissed that their former beloved is asking for a release from his or her debts. In his cautionary tale, he explained, D only listed $250 of costume jewelry in her case, but an anonymous tipster sent a letter asking the trustee to look into her actual jewelry box containing a $30,000 diamond engagement ring. D didn't get away with it, the trustee warned, even though he had to go to Syracuse to get a court order denying a bankruptcy discharge to her.

My client, with no such issues, got in and out quickly; but my curiosity was piqued. Syracuse, New York may as well be in Sicily as far as local bankruptcy practitioners are concerned; it's in a different federal district and has completely different rules, customs and "legend and folklore," lowest on the official protocol of court practice but in reality among the most important. So it was easy to use court searches to identify the case in which this misbegotten soul had lied to a bankruptcy trustee.....

And as soon as I saw the name of the case, of course I knew who she was.

D (not her real initial) was a receptionist hired in my original law firm in the 80s, not long after I started practicing. She was a (insert ethnicity here)-American Princess; was drop-dead gorgeous, although not quite as DDG as she thought she was; and dressed to the Nine Wests with heels to match and kept the then-partners quite happy as she typed whatever little she was expected to type. Until one day, I think after my mentor's unexpected passing, she pissed off the successor senior partner by engaging in the following exchange with him:

D: says something on the phone that P didn't like.
P: "You might have handled that phone call differently."
D: "I didn't do anything wrong."
P: "Now now, you don't need to get defensive."
D: "I'm not being defensive, PPPPPPPPPPPPPPPPPPPPPPPPPPPPPP!"

P sent her packing on the spot- the only employee I can remember to be fired for anything in the almost ten years I was there.

D's case with this trustee was only a few years ago. In addition to tracking down her Bad Behavior case, I found her current Facebook page, which mentions none of it, confirms her happy marriage, and notes that their teenage daughter is now on the pre-Dancing with the Stars circuit. I wish better things for her than I ever will for P, and just hope that she learned more from the bad experience than P ever would have (or the contractor guy ever likely will).
This entry was originally posted at
http://captainsblog.dreamwidth.org/1493958.html
. Please comment here, or there using OpenID.