The last three workdays last week were bookended by trips to Rochester for both work and teeth. The only scheduled work of Wednesday was signing up a couple's wills; only one of them showed up, though, so that wound up making for a very early start on Friday to get Mr. Client's done, as well.
The Wednesday dental appointment was the more routine one- just a semiannual cleaning. The new hygienist is very young, very good, but very chatty. Better to be that during a cleaning than during what came two days later.
Emily's office is just down the road from Dr. Ron's, so I stopped over there to drop off a copy of
Nothing-
a quirky Canadian film our friend Ann recommended to us. Since I was running a little behind schedule, I just found her car in the parking lot and slipped the DVD under her windshield. I even texted her that I would probably do that....
which she apparently forgot. By the time she got home, a good 20 mile drive, she hadn't realized I'd done it, but amazingly, it was still there under the wiper. Good thing it hadn't rained that day;)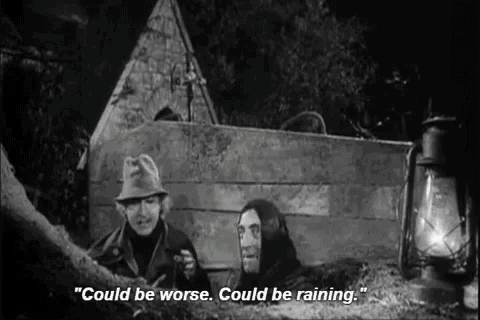 ----
Two days later, I was back there, to take care of problems with two teefs. One, I'd known about for ages; the other came up on an x-ray last time I was in. Either could have turned into a major crown job, but we got them both filled and smoothed out with much less time and expense. Before that, I also finished Will Number Two for Wednesday's couple, and got back here at a decent hour for, among other things, watching a goofy Scandinavian film that Netflix sent us; both of us were getting
deja vu
throughout, which made sense, because not only had we seen it before,
we own it.
Then last night, we watched
Repo Man,
which we
knew
we owned, in honor of the passing of Harry Dean Stanton.
----
Small world time at the dog park today. I'd fallen behind on a lot of paperwork with the time spent driving and sitting in dentists' chairs, so I tried cranking out a bunch of stuff from home on Saturday morning. It wasn't going well- the printer jammed, the work was dreary, and I was in Such A Mood when I left to finish up at the office, I decided to work in a workout first. It shouldn't have been overtiring (I check their unofficial schedule on reddit before booking anything), but for whatever reason it really wore me out. But the instructor is a really nice guy- my second class with him at the studio on the other side of town that is actually closer to my office than my "regular" one is.
Turns out I'd already met him before. Not long into our first trip round the Parp!, we saw a couple of beagles who've been there before- Peter and Piper. Their male human looked at me kinda funny, and we finally concluded that he's the trainer I'd done the class with the day before.
----
Recording
Vietnam
as I finish this. I don't know if I'll get into it, but everything I've read about it, and about Burnsian documentaries in general, has been very positive.
This entry was originally posted at
http://captainsblog.dreamwidth.org/1502153.html
. Please comment here, or there using OpenID.